Getting Serious about Vertical Videos
Just a few years ago vertical video was often viewed as a mistake, but with the huge rise of mobile content consumption, we're now seeing it as more of a necessity than a problem.
Your customers are more likely to watch vertical video than ever before and it's more effective than its poor cousin – the horizontal video.

But we understand the pain; it's hard to source lots of high quality vertical video!

In this article we examine who is doing vertical video right with examples and key takeaways and tips to creating a winning strategy.
But first, how did we get here?
You can thank our "mobile-first" society for this one.

The rise of vertical-video has been propelled by the popularity of portrait-optimized apps such as Instagram, Snapchat, Line, Periscope and Facebook.
Even publications like The Daily Mail and Mashable are shooting content with vertical orientation in mind. Thanks to the rapid advancement of these technologies, vertical-video has gone from an almost laughable, inexcusable act­ion to a mainstream staple.

Although Facebook is often cited as the platform propelling the trend forward with their release of newsfeed-optimized vertical video uploads last August, the shift in video viewing trends actually came in 2011. The launch of Snapchat shattered vertical video taboos, introducing a social media platform characterized by its capabilities in creating on-the-fly content.

Millennials are the driving force behind this change in viewing content, with the average millennial (aged 16-30) spending over 3 hours a day on their mobile device, with about 150 minutes of that time being vertically oriented. We answer our phones vertically, respond to texts vertically, and surf the web vertically. So why do brand continue to produce horizontal video?
Barriers to Entry

Of course, fully embracing vertical video is easier said than done. There are certain challenges that need to be addressed before vertical mobile ads command the attention they so desperately deserve.

One of the biggest barriers to entry for advertisers is a lack of readily available vertical creative. Traditionally, advertisers have gotten away with repurposing pre-roll and TV creative into horizontal social advertising, fit for the desktop screen. But now, with 80% of social media use happening on mobile devices, this method is no longer cutting the mustard.

Even if creative is shot for the horizontal screen, it can still be transitioned to perform successfully as vertical video. It is promising to see the emergence of graphic design technology assisting with optimizing creative into the right specs. However, this is still a barrier for some brands that do not have access to editing resources.
Who's Doing it Right?
Entertainment brands (movies and television) are currently leading the charge in terms of embracing vertical orientation, accounting for almost 40% of vertical video ads online. Other industries are still playing catch up, with apparel and retail using vertical video ads just 9% and 7% respectively.
 
Mercedes-Benz UK
Mercedes-Benz UK has taken full advantage of Instagram stories, releasing this experimental story format featuring split-screen editing techniques.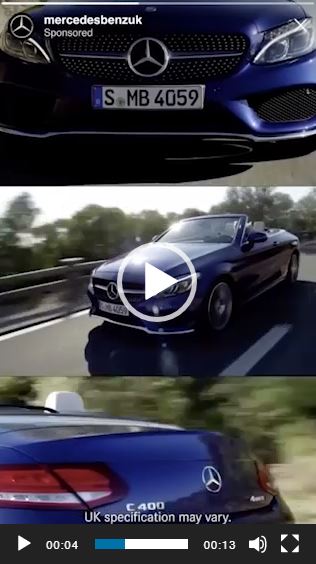 Key Takeaways:

– MB was able to showcase multiple product features in one easy to use interface, without having to toggle between videos
– Features are presented in a way that is aesthetically pleasing and interesting, without looking too busy or distracted
Sour Patch Kids
The launch of the new Sour Patch Kids Tropical selection of gummy treats is a nearly perfect example of how a television commercial can be repurposed into an attention-grabbing 6-second vertical video for Instagram stories.
Video Player
Video: Source
Key Takeaways:

– SPK was able to generate a sense of brand cohesiveness across platforms with repurposed content
– The brand chose to adhere to Instagrams proposed best practices for video creative, meaning a 6-second clip optimized for newsfeeds
Spy Valley Wines
Because of the classical shape and form of wine bottles and their corresponding glasses, producing vertically oriented content felt natural, and ended up being ideal for Instagram's newest feature. This ad placement allowed Spy Valley Wines to get creative with their advertising, using InstantVideos to bring their bottle labels to life!
Video Player
Key Takeaways:

– Be platform specific. The success of video content lies strongly in its congruence to its designated platform.
Think differently. Spy Valley creatively animated the label to emphasize the brand rather than showing generic vineyard images.
What's Next for Vertical Video?

Marketers and advertisers can't afford to ignore this growing video style. While vertical video won't completely replace horizontal video, it will certainly carve out its own niche in the market. Why? Vertical video and the platforms that host it will continue to evolve, and creatives need to continue to adapt their storytelling methods in response.
It's important to adapt your digital strategy to best meet the evolving needs of modern mobile audiences. With vertical video KPI's expected to grow, one can predict that platform-optimized vertical video will continue to outperform its horizontal counterparts. Take advantage of the high viewability and optimal user experience that vertical video has to offer.
At Shuttlerock, we've developed a technology aptly named InstantVideo, which can take static images and turn them into striking 6-second vertical videos. The ease and scalability of video creation when using a product like InstantVideo means that you can have vertical video assets delivered to you in less time at a fraction of the cost of many editing resources.
Fuel your ads with vertical video!
--
Original article by Shuttlerock, read here